Join Shalaka at The Pint of Science Festival 2018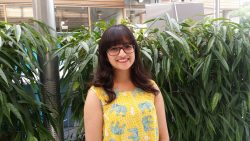 Shalaka Kurup (2015 cohort) will be running the Creative Reactions event, part of the Pint of Science Festival which takes place at the National Videogame Arcade this month.
Join Shalaka for three nights of exciting SciArt, as artists and scientists are paired up and explore research in new ways.
Expect an artists take on current scientific research in the form of paintings, photographs, poetry, improv comedy, and much, MUCH, more!
Creative Reactions starts on Monday 14th May with 'Let's get Physical'
Poetry is the music of the soul, Physics is the study of motion, Dance is the language of the body. What happens when you fuse them together? This could be your only chance to WATCH THIS LIVE!
Tickets: https://pintofscience.co.uk/event/process
Additional information can be found here