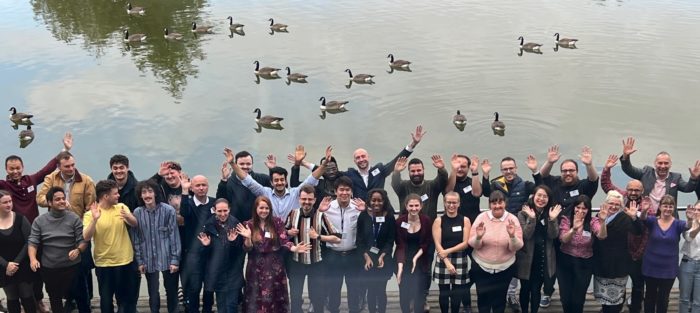 The EPSRC Horizon Centre for Doctoral Training in Creating Our Lives in Data held its annual Industry Day on Tuesday, 11th October 2022 at the Jubilee Conference Centre at the University of Nottingham.
This annual event is for CDT students, alumni, academic supervisors and current & prospective industry partners. It is a unique opportunity to hear from current students and alumni on the wide range of research undertaken in the CDT and how we engage with our partners. During this event, our PhD students also have the opportunity to network with both their own and other students' industry partners which is a terrific way for them to gain new views on their research and its potential impact outside of the academic environment.
| | |
| --- | --- |
| | |
About 90 delegates attended this year's event, together with colleagues from the CDT's supporting industry partners, academic supervisors, mentors, CDT graduates, CDT students, and CDT staff. We were delighted that colleagues from Unilever, Digital Catapult, BlueSkeye AI, Microlise, Microsoft Research, My Internal World, The Happiness Quotient, RSSB, Makers of Imaginary Worlds, Co-op, Department of Transport and Albino Mosquito Productions were able to join us in Nottingham to take part.
Professor Nik Watson, CDT Deputy Director, kicked off the event with an update on the CDT's accomplishments and outputs. This was followed by talks from some of our visiting alumni who shared their journeys during and after their PhDs. There were also research posters created by the 2022 cohort and showcased on display throughout the day. 'Flash' presentations from cohorts 2019-2021 gave attendees a taste of the current interdisciplinary research taking place within the CDT. After lunch there was a briefing session for current and prospective external partners and supervisors followed by the opportunity for students to meet their industry partner and supervisor as well as network.
A CDT Advisory Board meeting was held immediately after the event for the CDT's Board Members.
The CDT would like to thank all those that attended the 2022 Horizon CDT Industry Day, as well as CDT students and alumni who presented on the day.
Below are the presentations that were shared throughout the day: