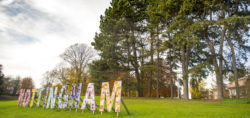 Horizon Centre for Doctoral Training 
Our research
The UKRI Horizon Centre for Doctoral Training (CDT) is based at the University of Nottingham and is supported by a multi million pound investment from UK Research and Innovation, the University of Nottingham and over 40 industry partners.
Internationally recognised as a leading research university, the University of Nottingham is one of the top five UK universities for collaborations with industry and the private sector, leading to cutting-edge research solutions that make a real difference to modern day science and society.
Each year Horizon recruits 10-20 students on to our PhD programme from a wide range of backgrounds including positioning, computer science, engineering, business, geography, psychology, HCI and other arts, science and social science disciplines.
Students spend 4 years experiencing an innovative PhD programme that combines a PhD research project with training in transdisciplinary research, innovation skills and industrial internships.
Our short video about the CDT below explains the benefits of the programme for students and collaborators, and you can also visit our research highlights page.
Video Production: Boardie.com