Third PhD studentship available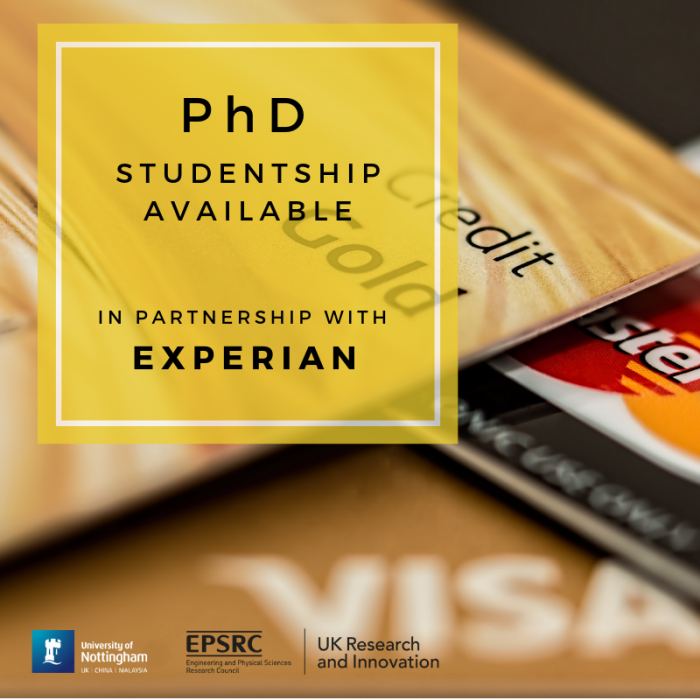 Four year fully funded PhD Studentship in partnership with Experian
We are recruiting a PhD student to carry out research in partnership with Experian with a focus on data science. Candidates are expected to have a background in Computer Science, Statistics, Physics, Social Science, Mathematics, Applied Mathematics or Economics. Candidates with backgrounds in other STEM subjects will also be considered if they can demonstrate capabilities in data analytics.
Candidates must have an excellent first degree and an enthusiasm for trans-disciplinary research.  The studentship is only available to UK/Home and EU students resident in the UK for a minimum of 3 years.
Potential themes/approaches suggested by Experian:
Co-creating/sharing data to enable better/fairer/faster decisions
Open banking – what does this mean for consumers, how will it drive knowledge about the data, and how will it result in better/cheaper experiences in a responsible way?
Machine learning/AI to increase the speed and accuracy of data analysis
Discover the information hidden in vast amounts of data, and help us make smarter decisions to deliver even better products
Applying data mining techniques, doing statistical analysis, and building high quality prediction systems integrated with our products. Such as:

automate scorecards process using machine learning techniques
build recommendation systems
improve and extend the features used by our existing models
develop internal testing procedures
build system for automated fraud detection, etc.

Selecting features, building and optimizing classifiers using machine learning techniques
Data mining using state-of-the-art methods
Extending company's data with third party sources of information when needed
Enhancing data collection procedures to include information that is relevant for building analytic systems
Processing, cleansing, and verifying the integrity of data used for analysis
Doing ad-hoc analysis and presenting results in a clear manner
Creating automated anomaly detection systems and constant tracking of its performance
About Experian
Experian is the world's leading global information services company.  During life's big moments – from buying a home or a car, to sending a child to college, to growing a business by connecting with new customers – we empower confidence.  We help individuals to take financial control and access financial services, businesses to make smarter decisions and thrive, lenders to lend more responsibly, and organisations to prevent identity fraud and crime.
We have 16,500 people operating across 39 countries and everyday we're investing in new technologies, talented people and innovation to help all our clients maximise every opportunity.  We are listed on the London Stock Exchange(EXPN) and are a constituent of the FTSE 100 Index.