Neeshé Khan – placement at Connected Places Catapult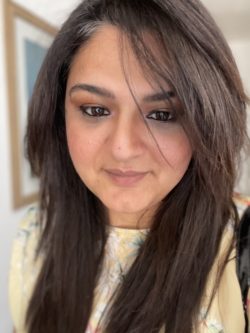 Neeshé Khan undertook a three-month placement with Connected Places Catapult (CPC) as a Cybersecurity Specialist reporting to the Director of Applied Data and Technology directorate. CPC gave Neeshé the opportunity to collaborate across designations and throughout the department engaging with numerous projects. Utilising her expertise she contributed to CPC's response to a governmental consultation on the cyber security of private 5G networks. Neeshé analysed and evaluated CPC's existing and potential project portfolio to identify existing gaps and future opportunities in the area of cybersecurity.
During her placement, she led a consultation with small and medium enterprises (SMEs) to produce a report on the cyber security challenges of implementing Digital Twins within the Future Air Mobility (FAM-DT) domain. Her work also included creating a cyber security framework for Living Labs project which assists healthy aging. Neeshé created 'Cyber security series' for CPC which included a game and website design to raise awareness on a range of topics within cyber security for SMEs developing emerging technologies and local councils implementing them as part of their early adoption initiatives.
Neeshé is using this industry experience to help her build a novel framework for unintentional insider threats based on her previous research study. Conducting stakeholder evaluations at CPC as part of horizon scanning has provided Neeshé with a unique opportunity to understand the barriers that alienate users from engaging with and understanding the importance of cyber security in their daily lives.
Jimiama Mafeni Mase- placement at Microlise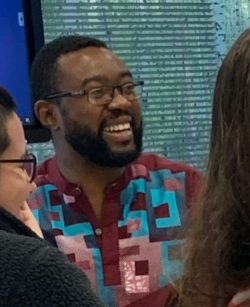 Jimiama Mafeni Mase completed his placement at Microlise in Nottingham, UK. Microlise is a tech company that develops telematics solutions for fleet companies to run their businesses more cost-effectively, compliantly, safely and efficiently. During the placement, Jimiama was responsible for investigating the effects of camera-monitoring and supervisory coaching in improving the driving behaviours of Heavy Goods Vehicle (HGV) drivers. He was given access to large datasets of HGV driving incidents before and after the installation of cameras and coaching. The outcome of his placement is published in the high impact 'Accident Analysis and Prevention' Journal and the manuscript is titled 'Evaluating the Impact of Heavy Goods Vehicle Driver Monitoring and Coaching to Reduce Risky Behaviour'.
Jimiama reported that the placement improved his presentation skills and confidence, as he was required to regularly present key findings of his analysis to senior management. He also mentioned a significant improvement in time management, problem definition, data and statistical analysis skills. Jimiama believes the placement helped him to have a clearer understanding of driving behaviour domain and influenced the enhancement of his research methodology.