Horizon CDT Industry Day 2017
Held on Wednesday 11 October 2017, 10.00am-2.30pm
Sir Colin Campbell Building, Innovation Park, University of Nottingham
Following the success of the September 2016 event, the Horizon My Life in Data CDT hosted another Industry Day on 11 October 2017.  Last year, 65 delegates attended the day at the Jubilee Conference Centre, and the almost the same number of attendees were present again this year.
The industry day provided stakeholders with an update from the CDT Directors on the continuing successes and outputs from the Horizon CDT, as well as presentations from CDT students from various cohorts and multidisciplinary research areas on how they are collaborating with industry and public sector organisations as part of their PhD research. There was also a CDT student research poster showcase on display throughout the day.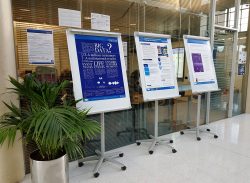 The event closed with a networking buffet lunch, with the opportunity for delegates to catch up with each other to discuss current projects as well as being able to discuss potential future collaborations and activities.
After lunch there was a CDT Advisory Board meeting, so those attendees who were members remained for this.
Felicia Black
Horizon CDT Impact Officer