CDT student interviewed on Notts TV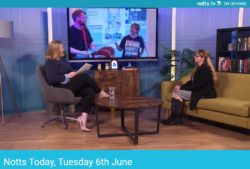 Horizon CDT 4th year PhD student Angela Thornton was invited to be a guest on Notts TV yesterday.
Angela spoke about being one of only 7 academics in the UK to share their work with the public at The British Science Festival taking place in September 2024. Angela went into further depth regarding a better understanding of the human brain and the concept of reproducing the brain – often known as Mind Uploading.
You can view the interview here (starting at 5:47):  https://nottstv.com/programme/notts-today-tuesday-6th-june/
Tags:
British Science Festival
,
human brain
,
Mind Uploading
,
NottsTV