Horizon CDT students present at Pint of Science 2023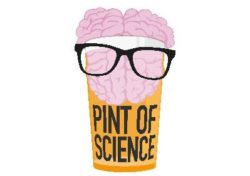 Global science festival Pint of Science brings scientists to your local pub to share their research. The event takes place every year in pubs and cafes in over 35 cities in the UK including our very own Nottingham!
For many years, Horizon CDT students and alumni have been active contributors to the Pint of Science festival. This year, Callum Berger and Angela Thornton presented at the Tap House as part of the 'Tech Me Out' series, where they talked about their work in a casual and relaxed pub setting while engaging with new audiences.
The Pint of Science kicked off with the Creative Reactions exhibit, in which Blobb Ross and Carl Cole collaborated with Angela and her research to write and perform a piece of music titled Mind Uploading- Science Fiction or Science?
Angela's research explores the future topic of mind uploading which is supported by ongoing research in Whole Brain Emulation (WBE).
Callum's previous research has focused on machine learning applications in turn-based games as well as the influence of fear on heart rate in fear-based virtual reality experiences. He is now researching the personalization of virtual reality horror encounters using physiological data.
Looked like this year's Pint of Science was one of the best yet!
You can catch Angela's Pint of Science talk here.