The new Horizon CDT brochure has arrived!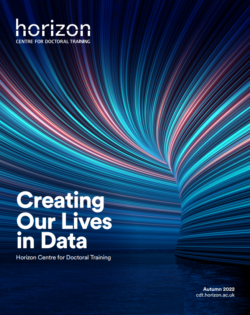 We are excited to announce that the new Horizon CDT brochure is here! This publication was launched in autumn 2022 to support the Horizon CDT Industry Day held on 11th October 2022.
In our brochure, we showcase some of our PhD's' fascinating research as well as the accomplishments of our graduates. You can also read about the CDT programme, partnerships and potential collaboration opportunities.
Contents:
Partnerships
CDT Programme
Alumni destinations
Student Case Studies
Alumni Case Studies
Industry Placements
Special Dedication
CDT International Exchange Schemes
Take a look at the latest Horizon CDT brochure:  Creating Our Lives in Data 2022