Angela presents at the 2022 EMDOC CONFERENCE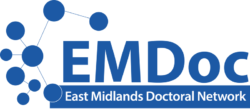 EMDoc is a conference made up of nine universities eager to collaborate to share resources, ideas and best practices for doctoral research in all fields. It is a great opportunity to network with other academics and discuss and promote research.
On 21st September 2022, the 2022EMDoc was hosted online by the University of Lincoln with the theme of "Interdisciplinarity and Collaboration" 
Horizon CDT 4th year student Angela Thornton was invited to give a ten-minute live stream presentation on her research: "Memory to Mind Uploading: An Interdisciplinary and Collaborative Approach to Exploring Future Worlds"
ABSTRACT:
Mind Uploading is a familiar term due to programmes like Black Mirror and Upload.
However, what is less well known is that scientists are collaborating to reverse
engineer a brain via whole-brain emulation (WBE). If this is achieved in reverse
engineer a brain via whole brain emulation (WBE). If this is achieved in humans, it
might be possible to create a brain – and some believe a mind – on a different
processing platform such as a digital computer. However, research exploring public
understanding of and attitudes towards advances in neuroscience, which could
potentially lead to whole-brain emulation and mind uploading, is limited. My
research to date comprises several studies both quantitative and qualitative on
public awareness and attitudes. I am currently collaborating with a longitudinal
public panel where I have used individual interviews to explore their
autobiographical memories both past and predicted. These act as an enabler for
discussions around mind and the possibility of mind uploading far in the future. The
panel have also engaged with Artificial Intelligence (AI) apps and Brain to Computer
Interfaces (BCIs).
This has primed them for the final stage of my public research which involves a
creative and novel method of transporting individuals to future worlds where mind
uploading is a reality. I decided on this method – an online storytelling site – as a
direct result of my conversations and collaborations with researchers working in
Human: Computer Interaction (HCI) and game developers. A strong, strategic
partnership with my industry partner – a non-profit organization working towards
WBE – also allows me to collaborate with international multi-disciplinary experts for
example on a e-Delphi study researching memory and mind. My supervision team's
expertise in Human Factors, Science, Technology and Society and Medicine has also
enriched and enabled different perspectives and approaches.