Horizon CDT success at CHI 2022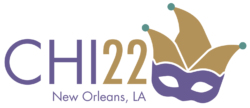 Congratulations to the Horizon CDT students and alumni that presented at the ACM CHI Conference (CHI 2022) this week!
CHI 2022 is the largest human-computer interaction (HCI) conference in the world bringing together professionals from various disciplines and cultures to discuss new ways to practice, develop and improve methods and systems in HCI.
The conference was held in New Orleans, USA as a Hybrid-Onsite full conference from April 30 to May 6.
Harriet Cameron is co-author and presenter of Sensitive Pictures: Emotional Interpretation in the Museum which investigates how Affective Computing can operate as a mirror for our feelings during Affective Interaction.
Serena Midha is the primary author and presenter of Lived Experiences of Mental Workload in Everyday Life investigating what goals people should aim for in their mental workload lives to optimise aspects of their work performances and wellbeing.
---
CDT alumni Horia Maior, Lachlan Urquhart and Neelima Sailaja also presented their work at CHI 2022.
Horia Maior: Moving from Brain-Computer Interaction to Personal Cognitive Informatics.
Lachlan Urquhart: What are the legal & ethical issues for brain-related activity tracking?
Neelima Sailaja: Where lots of people are sharing one thing, as soon as one person does something slightly different it can impact everyone: A Formative Exploration of User Challenges and Expectations around Sharing of Accounts Online.
Great job everyone!
Tags:
CHI2022