The Undiscovered Island Tour 2020-2021
We are delighted to announce the news that Roma Patel, a scenographer and digital artist who joined the Horizon CDT as a PhD student in 2013, has been awarded an EPSRC Telling Tales of Engagement grant to carry out a multidisciplinary project drawing on the performing arts, human-computer interaction, and education.
Roma's project is concerned with 'content creation and consumption' of cultural experiences by young children and their families. Multi-sensory design plays an essential role in theatre for early years (under six years old). Very young children make meaning through directly sensing and interacting with their world. Hybrid performances embedded with digital, tangible and sensing technologies support agency, play and real-time interactions. The mixed reality experience helps new perceptions and affordances, not only in performance but in the design of flexible, interactive public spaces.
Theatre for Early Years (TEY) is an emerging field of practice and research, and there is still a lot to learn about how children make sense of performances and installations.
The project follows on from previous research investigating the role that mixed reality scenography and experiences played in fostering agency and participation in TEY, and will explore how interactivity can create new modes of narrative, multi-sensory experiences and play  – aiming to expand scenography practice and potentially help practitioners working in TEY.
Roma's previous research involved the design of MR performances, one being the 'Runaway Hare'. More recently Roma was commissioned to design and build 'The Enchanted Forest' (EF) by the Theatre Hullabaloo for the opening of their new Theatre Building, the first purpose built Theatre for children in the North of England. The installation was created in association with the Mixed Reality Lab at the University of Nottingham.  EF opened in December 2017, in the first month, Theatre Hullabaloo's Artistic Director, Miranda Thain said; "It has been a total delight seeing so many children and families enjoying visiting since we opened in December. We have already welcomed almost 1,000 children in to play, exceeding our targets, and look forward to welcoming many more". It ran for four months and then toured to Polka Theatre, London for three days at the Technotopia Children's Festival, May 2018 along with several other Horizon DER projects. Hullaballoo invited EF back a second time – due to public demand – in April 2019 for six months. A total of 17,147 children and grownups visited over the entire period and was it received reviews in the Tje Northern Echo and the Darlington and Stockton Times, along with being seen by international delegates at TakeOff Festival. One parent said, "We came today with three generations and we all loved it. The creative play space is amazing too and totally captivated my three-year old's imagination".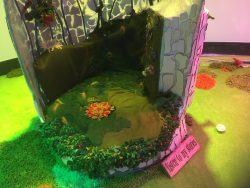 This research project is framed within a child's rights perspective. The UN Children's Convention on the Rights of the Child states that all children have the right to engage in play and recreational activities appropriate to the age of the child and to participate freely in cultural life and the arts' (UN Committee on the Rights of the Child).
Tags:
CDT
,
digital economy
,
EPSRC
,
impact
,
inspire
,
Telling Tales of Engagement