Horizon CDT Industry Day 2019
The Horizon Centre for Doctoral Training (CDT) will be holding it's annual industry day on Friday 27 September 2019 at the Albert Hall Conference Centre in Nottingham City Centre.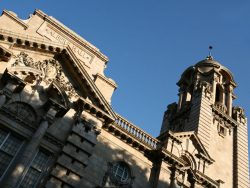 This showcase event is delivered annually for the Centre's industry collaborators, funders, supervisors, staff and PhD students – and also includes the Horizon CDT Stakeholder Advisory Group Meeting in the afternoon. Since 2016, the event has attracted over 60 delegates each year.
The day will feature an update from the CDT Directors, presentations from CDT students from across various cohorts on their multidisciplinary collaborative research and opportunities for delegates to meet and network with other collaborators, students, academic supervisors and staff. There will also be a research student poster showcase. Lunch and refreshments will be provided.
The day will start at 10.00am and finish at 2.45pm and will be held in the Osborne Suite at the venue.
For any queries about this event, please contact Monica Cano, Horizon CDT Impact Officer at monica.cano@nottingham.ac.uk.