Summer internships for Horizon CDT students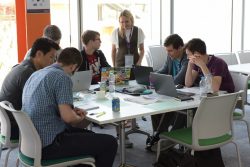 Over this Summer, many of our Horizon CDT students across various cohorts are carrying out their three month internships at various organisations across the globe, as part of their My Life in Data PhD programme.
These placements provide a highly valuable opportunity for CDT students to carry out R&D projects, and further develop their generic business and team-working skills, either at their industry partner organisation, or at an establishment of high relevance to their research and of mutual benefit to both the student and the internship provider.
Horizon CDT students currently undertaking PhD internships are:
On their return, the CDT students provide a presentation and a Q&A session for their PhD student colleagues on their internship experiences and outcomes.
We wish the very best of luck to all of our CDT students with their internship placements!