Five more graduate at Summer 2018 ceremonies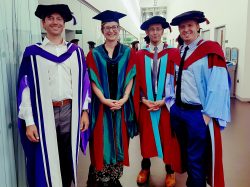 Five more CDT alumni celebrated their success and graduated with their PhDs from the Horizon Centre for Doctoral Training at the University of Nottingham during the ceremonies in July 2018.
Dr Dimitrios Darzentas (2012 cohort), Dr Liz Dowthwaite (2012 cohort), Dr William Knight (2012 cohort), Dr Panos Koutsouras (2013 cohort) and Dr Matthew Terrell (2011 cohort) all received their conferrals at the University Park Campus, and are now part of the Horizon CDT postdoc alumni community, which is now 45 members strong.
Below is a selection of pictures from the July 2018 ceremonies featuring all of the above-mentioned graduates, and CDT Directors and Supervisors.
These graduates have gone on to secure employment nationally in both academia and industry.
Dimitrios and Liz are now employed as Research Fellows at the Mixed Reality Lab and Horizon Digital Economy Research Institute (respectively) at the University of Nottingham. William is a Project Officer/Research Fellow at De Montfort University in Leicester, whilst Panos is a Junior User Researcher at Sony Interactive in London. Matthew is now Head of Marketing at Justis (Legal Research), also based in London.
Many congratulations to all!