Horizon CDT Summer 2018 graduates
The University of Nottingham summer graduation season is now upon us, and the first our Horizon Centre for Doctoral Training (CDT) alumni to graduate in the 2018 ceremonies, on Friday 13 July was Dr Liz Dowthwaite, who received her PhD in the Faculty of Engineering ceremony, along with other graduates from the Human Factors Research Group.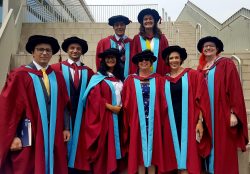 Liz, who was a member of the 2012 CDT cohort, is pictured on the far right of the picture above, next to Professor Sarah Sharples, the Horizon CDT Co-Director who presented the graduates with their conferrals. She successfully defended her thesis is February 2018 entitled 'Crowdfunding Webcomics: The Role of Incentives & Reciprocity in Monetising Free Content'.
After completing her PhD in 2017, Liz immediately went on to secure a Research Fellow position in the Horizon Digital Economy Research Institute at the University of Nottingham.
Many congratulations to Liz, and we hope you enjoyed celebrating your achievement with your family, friends and colleagues.
More members of the Horizon CDT alumni will graduate on 19 July at the School of Computer Science graduation ceremony.
Tags:
alumni
,
CDT
,
Graduation
,
Horizon