Former CDT PhD student Mark Iliffe moves to New York to join the UN-GGIM

Moving On, So Long, Farewell and Hello!
The past three months have bought about a massive change, both personally and professionally. I've moved to New York, to take up a post within the United Nations' Committee of Experts for Global Geospatial Information Management or UN-GGIM for short. Acronyms aside, it's been a hard, but fun change with much challenging work ahead!
In moving from operational work (World Bank in Tanzania and with the N/LAB at the University of Nottingham) to a secretariat role, I'm hoping to bring a little field experience to Headquarters, especially in terms of supporting the development of policy and direction for geospatial data.
With geospatial information at the heart of global policy, from the 2020 round of Census to the 2030 Sustainable Development Agenda, the next few years will be very exciting!
Looking back, I'm quite sad to to leave my previous colleagues behind, especially given the opportunity to build and lead the Tanzania Urban and Geospatial team from its inception – or to turn the phrase of my then boss Edward Anderson in 2011 "Build a mapping empire!"…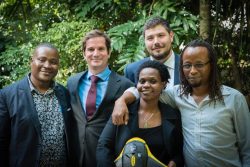 The 2017 World Bank'sPresident's Innovation Award Winners (from left, Deogratias Minja, Edward Anderson, Justina Kajenge, Myself, and Freddie Mbuya)
From the pilot of mapping the Tandale neighbourhood in 2011 mapping ~65,000 people, Ramani Huria grew, from an initial start of 10 neighborhoods to scaling across Tanzania and supporting global projects like Missing Maps and national ones like Crowd2Map, while delivering its main mission of building flood resilience in Dar es Salaam. The Zanzibar Mapping Initiative has mapped Unguja Island at an unprecedented 3.5cm – 7cm resolution with Drones and laid a foundation for improved geospatial collaboration in Zanzibar. These innovative projects (and others) are now being mainstreamed into frontline operations through the Tanzania Urban Resilience Program – taking an innovation-led approach to capacity development operations, integrating innovation and research into projects, as opposed to leaving it as a footnote. Academically, surviving a PhD and helping bring the N/LAB Centre for International Analytics into being at the University of Nottingham are fond memories – bar the last few weeks of the PhD!
Ultimately, what has been the most rewarding has been the people, whether it has been Ward Officers in Tanzania; blue-sky scheming with Edward, Josh, and Samhir on the direction of the World Bank's innovation work; being academically challenged with James, Gavin, and Andrew; Learning with the commons with Willow, Dirk, Giuseppe, Heather, Mikel, Florian, Sara, Tyler, Ivan and Nico; to being in the thick of one of the fastest growing cities in Africa with Msilikale, Deo, Beata, Devotha, Daud, Rashid, Roza, Darragh, and many others, too many to count.  Thank you to you all – it was an honour.
To win against the tide, though somethings never worked out (ie. jet ski lidar for inshore bathymetry!) friendships were made, and there was a little bit of love there too! Looking back at six years, 3 months on it really was a wonderful journey, here is to the next one. So, with that in mind, I am ex  field ops, I have shuffled off mapping, ran down the scale bar and joined the international civil service in a secretariat – in time, leaning towards more Bernard than Sir Humphrey!