Horizon CDT student's Enchanted Forest opens at Hullabaloo
In September 2017, the EPSRC-funded Horizon Centre for Doctoral Training (CDT) invested in a series of internally-funded PhD student impact grants, in order to extend the reach of the transdisciplinary digital research being carried out in the centre. These awards are now starting to bear fruit, and an example of this is from CDT student Roma Patel's work with Theatre Hullabaloo, the North East region's very first children's theatre, which opened its doors to the public on 12 December.
Roma Patel is an experienced Scenographer and Digital Artist who commenced her PhD with the Horizon CDT at the University of Nottingham in Autumn 2013. After completing her doctoral research in the University's Mixed Reality Lab, Roma commenced the collaboration with Darlington-based Hullabaloo in 2017, in advance of their scheduled winter opening of a brand new £2.7m venue, funded by Arts Council England and Darlington Borough Council, specifically designed to be an inspirational place for children from 0-16 years and families to play and learn.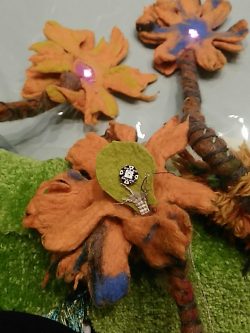 Above: Interactive muscial flowers developed by Roma Patel for the Enchanted Forest installation.
The Horizon CDT impact grant has allowed Roma to develop the Enchanted Forest, which will be the first installation to be housed in the theatre's new creative play space, and will run until end of January 2018. Within the Enchanted Forest, families can play and learn with a fully interactive environment including musical flowers, an illuminated pond and magical trees.
You can read more about Theatre Hullabaloo's opening day and the Enchanted Forest in this Chronicle Live article.
The Horizon Centre for Doctoral Training impact grants are supported by EPSRC grant reference EP/G037574/1.