Broadening horizons in the Digital Economy
The new Horizon Centre for Doctoral Training in My Life in Data brochure 'Broadening horizons in the Digital Economy has recently been produced, as a timely publication for the CDT's Industry Day, which attracted over 60 delegates to the University of Nottingham on 11 October. A combination of CDT students, staff, industry partners, supervisors and EPSRC colleagues attended the event in the Sir Colin Campbell Building on the University's Innovation Park.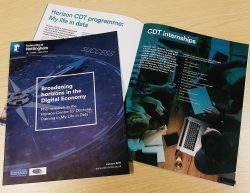 An updated version of our Autumn 2016 edition, this new publication provides new PhD student and alumni case studies, showcasing the successes of our graduates, as well as updated information on the CDT programme, partnerships, internships, completion statistics and research impact activities.
The booklet aims to provide information for the Centre's stakeholders, as well as providing information and inspiration for potential CDT applicants and collaborators.