Doctoral Prize success for CDT graduate
Horizon CDT graduate, Dr Horia Maior, has been successful in obtaining a University of Nottingham EPSRC Doctoral Prize, to deliver a research project entitled 'Brain-Tracker: A fit-bit for the Brain based on physiological sensors, tracking the mental workload of everyday task'.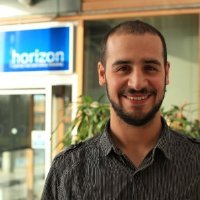 A Doctoral Prize award provides the opportunity for the most outstanding EPSRC-funded PhD students to receive up to 24 months of additional support following their PhD. It is designed to offer support and flexibility and is targeted at excellent scientists and engineers who wish to establish a research career.
This is a particular achievement for Horia, as the University was offering just four prizes in 2017, so competition was fierce!
Horia will commence his Doctoral Prize in Autumn 2017, and will fund him as a post-doc researcher at the University of Nottingham for the next two years.
Congratulations Horia!