CDT graduate launches user experience company
Dr Sam Howard was the first PhD student of the Horizon CDT 2012 to successfully defend his thesis, and today Sam officially starts his new business venture as Founder and Director of Research at Userfy, a user experience start-up co-founded with proven tech entrepreneur Phil Randall.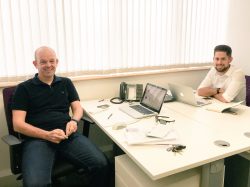 Above: Userfy founders Phil Randall (left) and CDT alumni Dr Sam Howard (right)
Nottingham-based Userfy can provide it's clients with expert user research, usability testing and consultancy services. The insight-led company, based in the growth hub Accelerate Nottingham, focuses on the design of high-performing websites, apps and software by gaining a deep understanding of their customer's user experience requirements.
You can find out more about the Userfy team at www.userfy.co.uk/team/.
The Horizon CDT would like to wish Sam every success with his new company.