Cohort visit to Catapult
Yesterday the 2016 CDT and IDIC cohort visited the Transport Systems Catapult in Milton Keynes to hear about the organisations work on intelligent mobility, innovation in future traveller needs and demonstration projects around autonomous vehicles.
The students were also joined by CDT Director, Professor Sarah Sharples, and Dr James Pinchin of Horizon Digital Economy Research  at the University of Nottingham. Catapult colleagues Alby Miler, Alan Nettleton and Steve Close also delivered seminars for the 14 attendees during the day.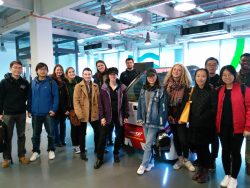 Above: Horizon CDT students from the 2016 cohort at the Transport Systems Catapult