CDT students lead workshops at Summer School
The annual Digital Economy Summer School, supported by the RCUK-funded Digital Economy Network took place on 17-20 July 2016 at The Core in Newcastle.
75 CDT students from various Digital Economy centres and research groups attended the three-day event, which was organised by staff and students from Newcastle University's Open Lab and EPSRC Centre for Doctoral Training in Digital Civics. The generic theme for 2016 was 'Digital Citizens, Connected Communities'.
Four doctoral students from the Horizon CDT were successful in applying to co-lead one-day collaborative workshops with peers from other Universities.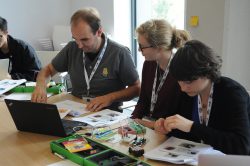 Roma Patel (2012) and Yitong Huang (2014 cohort) collaborated with Newcastle University PhD student Simona Palladino to deliver a participatory design workshop on the crafting of enchanted objects. Also successful were Annie Quandt (2013 cohort) and Andrew Moffat (2015 cohort) who led a workshop with HighWire CDT PhD student Ding Wang from Lancaster University focusing on a linguistic enquiry into the Digital Economy.