Roma Patel is a scenographer and digital artist, who joined the Horizon CDT as a PhD student in Autumn 2013. Her research, within the Mixed Reality Lab at the University of Nottingham, focused on how the convergence between childrens' theatre and digital technologies can make performances more multi-sensory, playful, participatory and interactive for younger audiences.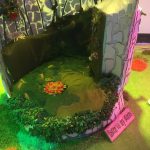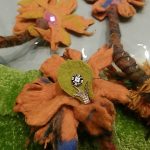 Following completion of her PhD research, Roma was awarded an internally-funded Horizon CDT impact grant in September 2017 to further engage the public with her research, by carrying out the following activities:
Collaborate with an experienced creative technologist from the Mixed Reality Lab(MRL), University of Nottingham to develop the interactive technologies for a performance installation for children which she is designing for Theatre Hullabaloo.
Roma has been working with Jo Marshall at the MRL to develop The 'Enchanted Forest' which opened at the Theatre Hullabaloo's new venue in Darlington, December 2017. Having received exceptional feedback from both the theatre and parents, Hullabaloo commissioned The 'Enchanted Forest', with its interactive trees and lily pads that light up, make noise and tell stories, an further extension until 5th of May:
"It has been a total delight seeing so many children and families enjoying visiting since we opened in December. We have already welcomed almost 1,000 children in to play, exceeding our targets, and look forward to welcoming many more"
"We came today with three generation and we all loved it. The creative play space is amazing too and totally captivated my 3 year old's imagination".
Conduct a series of interviews with staff from Nottingham Castle to find out what lessons can be learnt about sustainability of bespoke technologies from their interactive augmented reality (AR) exhibition that has been running since 2014.
Source new cultural partners who may be interested in hosting or touring the performance of her installation.
A video of 'The Enchanted Forest' has been produced and Roma has been undertaking a number of activities to support sourcing new cultural partners for future collaboration, involving presenting her work to nursery practitioners at Manchester Metropolitan Early Years Group, an Arts Council England funding application and an abstract submission to TEI2018
Work in collaboration with Polka Theatre in London to organise workshops and curate an exhibition of work from Horizon and MRL that explores the wider implications of technology and children for their Children's Theatre Festival in May 2018.
Roma has curated for 3 Horizon/MRL projects – UnBias, Artcodes and the Prediction Machine to feature alongside The 'Enchanted Forest' at the Polka Techtopia Festival in London, May 2018.