Mercedes was part of the Horizon CDT 2010 cohort, and is now a Transitional Assistant Professor at the University of Nottingham. Her research interests involve the medical treatment of newborns in Intensive Care Units (ICU), to further investigate the finding that neonates have a higher sensitively to pain than older children and that prolonged exposure to pain and the use of analgesics may have adverse effects on the neurological development of infants.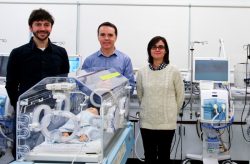 Mercedes will use this grant to:
Collect infant-pain data at the National Hospital Nigeria and Changsha hospital (China). This variable dataset will ensure that the findings are generalizable.
Invite neonatal nurses to rate the collected videos for pain intensity based on standard infant pain scales.
Produce an image analysis system for automatic pain assessment.
Organise a workshop for Healthcare in Computer Vision focusing on challenging research data collection due to the sensitive nature of the conditions or difficulty recruiting participants.
Organise a proof of concept workshop with neonatal clinical to obtain feedback on the 'tool' and its applicability within clinical settings.