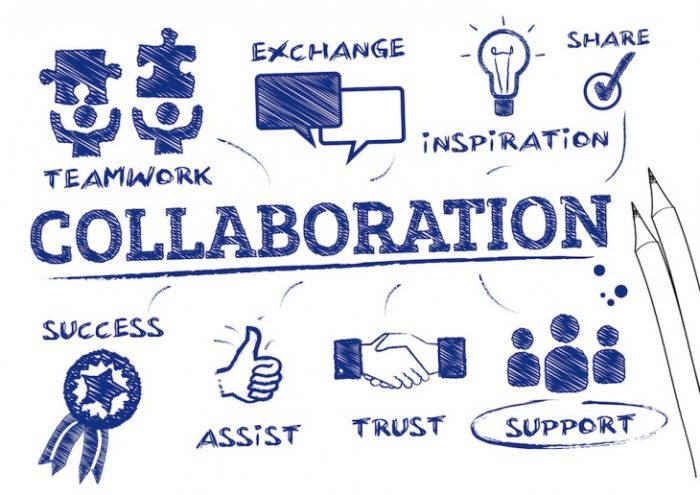 Information for industry and other partners
Background
The Horizon Centre for Doctoral Training (CDT) in My Life in Data provides an integrated four year training programme that will train a community of at least 80 PhD students with the interdisciplinary skills to address the challenge of digital identity for the 21st century.
In collaboration with industry, other organisations and international partners, our students will establish the technologies, applications and principles to enable citizens to construct their digital identities from personal data and effectively manage them to derive economic and social value.
The PhDs that emerge from our CDT are distinct from conventional PhDs; we produce rounded individuals with the skills to work in interdisciplinary teams, including technologists who appreciate the societal context for emerging technologies, and social scientists who are able to shape new technologies.
Core research themes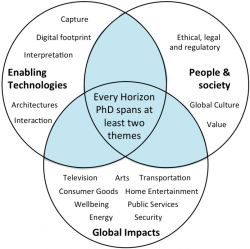 All Horizon PhDs must draw upon, and ultimately contribute to, at least two of these themes and also involve one or more external industry, other organisation or international partners.
Your experience partnering with Horizon
You will have involvement at various stages of the PhD programme beginning with recruitment of the student, then co-creating the project, co-supervising the student, and hosting student internships. In addition, we welcome any contribution to training or advisory input to the CDT as a whole.
Why partner with Horizon?
It is a cost-effective way for you to be involved in relevant leading edge research in digital identity where you may not have the resource or expertise to undertake this alone
The research project is co-created with you as the partner so the research is of real commercial significance to you
Our students are graduates who possess excellent academic track records and are highly committed to solving real world research problems. They experience broad training in interdisciplinary research and professional skills ready for careers in industry as well as having delivered a deep PhD thesis
By hosting the student for internships, you are shaping the employees of the future
Through the CDT you will have access to a network of expert supervisors across a range of disciplines, and the opportunity to collaborate with other industry partners.
What will it cost?
The standard contribution for a four year studentship is £50,000 (£12,500 pa), which is 50% of the cost of the studentship. This is excellent value for money compared with the costs of hiring a new graduate, and the student is not part of your company headcount (no NI contributions). Sponsors may be able to claim Research and Development tax credits.
We understand if you are a third sector partner or a small company, you may not have the funds to cover the full amount – please talk to us as there are various models we can utilise, including sharing the project with another company which has worked very well in a number of cases already.
Timeline
Each cohort of 10-15 students commences the programme in September. The advert goes out in November to ensure we attract the best students, with 2 or 3 rounds of recruitment each year.
We advertise the themes that have been co-created with our partners and the applicants choose which ones they are the most interested in. After initial filtering by an academic panel, the applicants are matched with potential partners who then interview the candidates themselves to check fit to company.
During the first year, the themes are developed into projects through discussion with the student, and the academic and partner supervisors.
Previous themes and research highlights
Examples of previous themes and partners can be found here, and range from questions about privacy of personal data and social perspectives of digital identity products, through to social care, media experiences, intelligent mobility, FMCG, healthcare and energy.
To get a flavour of how these themes have transitioned through into research highlights, take a look here.
Examples of impact created by our alumni
The Horizon CDT has been running since 2009, and there are many examples of real impact arising out of our research: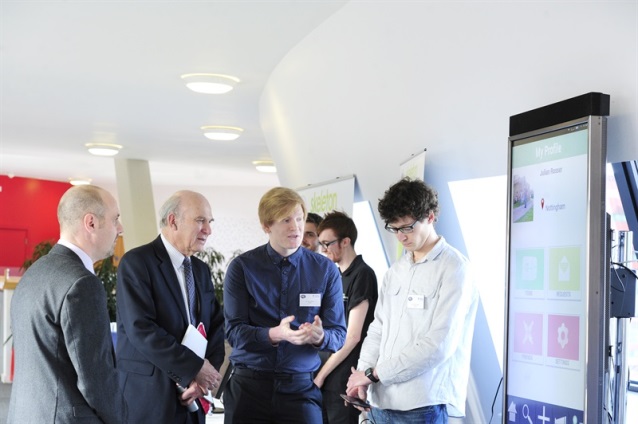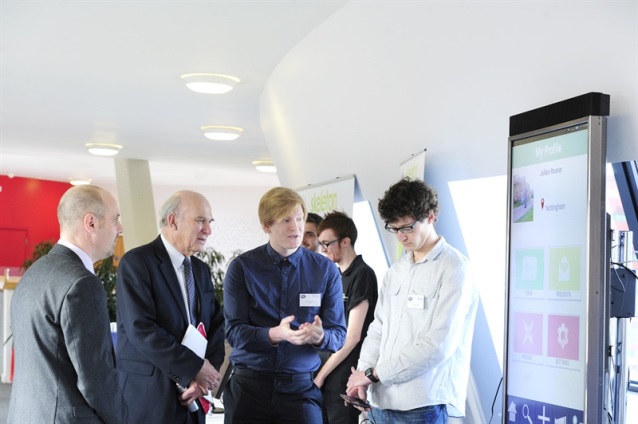 [Sir Vince Cable talks to the Neehoy team who won the 2012 Digital Economy YES competition]
Economic impact
Dr John Harvey, Tim Pearce and Dr Julian Rosser formed Neehoy Ltd and went on to win the Ecoskill Green Business Award. They worked with the Nottingham Energy Partnership to develop sustainable technological solutions for businesses and organisations (both public and private sector) throughout their product life-cycle, with an emphasis on recycling technology. The team have provided mentorship through national entrepreneurial events for current CDT and PhD students.

Societal impact
Dr Mark Iliffe founded taarifa.org, an open source application and community-providing software used in public service provision, now deployed in several countries around the world.  Mark has won various innovation challenges and other awards for Taarifa from organisations such as the World Bank. Mark graduated with his PhD in 2017, and is now a Research Fellow within the Neodem Lab in the Nottingham University Business School.
Influence on policy
Dr Gilad Rosner founded the Internet of Things Privacy Forum to act as an effective interface between industry, regulators, academics, government and privacy advocates, to collectively discuss IoT privacy challenges. Now based in Barcelona, Gilad is also a member of the UK Cabinet Office Privacy and Consumer Advisory Group, the .uk Stakeholder Committee, and the British Computer Society Identity Assurance Working Group.
Interested in partnering with us?
Please contact Dr Sue Jones, Transformation Manager on s.jones@nottingham.ac.uk or 0115 9514242.