4 year fully funded interdisciplinary PhD studentships in human-robot interaction
Theme 3: The use of Artificial Intelligence and Robotics in Live Creative Installations
Application deadline: Applications are now closed
Interview Day:  early-mid June 2022 (to be confirmed)
Start Date: 26th September 2022
Industry partner: Makers of Imaginary Worlds (https://makersofimaginaryworlds.co.uk/)
We are seeking an outstanding candidate to undertake an interdisciplinary PhD studentship in human-robot interaction commencing September 2022.  You should have a background in Computer Science, Human Factors, Engineering, Psychology or similar, with an excellent first degree and an enthusiasm for transdisciplinary research and robotics.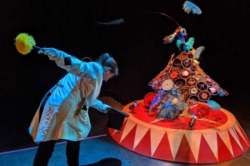 The student will use commercial robots and develop software to implement (semi-)autonomous robotic behaviours. This PhD project will require working with real robots interacting with real humans in challenging environments. Hence the student must have experience with programming (machine learning and robotics knowledge is desirable) and a strong interest in conducting user studies.
An annual tax-free stipend for the 4 years, starting at £18,069 will be paid.
* Please note there is a very limited number of places for international students across all 2022 themes.
About the theme
With robotics technologies becoming more affordable and accessible, there is a growing interest from creative industries to involve robotics in live installations. However, there are many challenges, as well as opportunities, when working with robotic installation art. Especially, there is a strong need for research to enable technological capabilities to improve the entire audience experience through an artistic lens.
This PhD project aims to build socially intelligent robotic installations by 1) developing artificial intelligence methods to create robotic installations, which are easy to configure by artists, 2) implementing adaptive robot behaviours that respond to changing audience states, such as engagement, boredom, attention, in order to enhance interaction through cognitive and user modelling, and 3) evaluating the developed techniques in real-world installations with real audiences.
The project will be realised in collaboration with the Makers of Imaginary Worlds (MOIW), where the student will lead the co-design and development of the artistic installation. It is anticipated that the techniques developed through the project will provide new insight and become a unique resource to enable highly functional robotic installations that can easily be used by artists.
How to apply
For more information about the application process, including eligibility and selection criteria and the documentation you need to provide please see  How to Apply.
---
Back to Current Opportunities
The EPSRC Centre for Doctoral Training in Horizon: Creating our Lives in Data is supported by the Engineering and Physical Sciences Research Council (EPSRC) under grant reference EP/S023305/1.