4 year fully funded interdisciplinary PhD studentship in Human-Robot interaction
Theme 1: Long-term autonomy and behavioural robustness in mobile and domestic service robots
Application deadline: Applications are now closed
Interview Day:  early-mid June 2022 (to be confirmed)
Start Date: 26th September 2022
Industry Partner: Beko Plc (https://www.bekoplc.com/)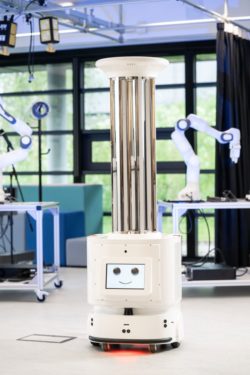 We are seeking an outstanding candidate to undertake an interdisciplinary PhD studentship in human-robot interaction commencing September 2022.  You should have a background in Computer Science, Human Factors, Engineering, Psychology or similar, with an excellent first degree and an enthusiasm for transdisciplinary research and robotics.
The student will use commercial robots and develop software to implement (semi-)autonomous robotic behaviours. This PhD project will require working with real robots interacting with real humans in challenging environments. Hence the student must have experience with programming (machine learning and robotics knowledge is desirable) and a strong interest in conducting user studies.
An annual tax-free stipend for the 4 years, starting at £18,069 will be paid.
* Please note there is a very limited number of places for international students across all 2022 themes.
About the theme
Although domestic service robots are successfully embedded with intelligent perception, planning, and scheduling abilities to help us with our household chores, failures and navigation errors are still very common, and there is little adaptation to recurring errors in state-of the-art systems.
Such errors pose a severe limitation on the long-term autonomy since they may cause a breakdown of the whole robotic operation. Hence, the ability to detect and recover from errors during navigation is an essential ability for an autonomous service robot that can run for extended periods of time. In addition, functioning in human settings, these robots should be programmed to adhere to social cues in a context-dependent manner, not only to enable safe, but also acceptable functionality. This PhD project will focus on these challenges by targeting multiple strands of research in perception, planning, human-in-the-loop learning, and shared control for service robots.
How to apply
For more information about the application process, including eligibility and selection criteria and the documentation you need to provide please see  How to Apply.
---
Back to Current Opportunities
The EPSRC Centre for Doctoral Training in Horizon: Creating our Lives in Data is supported by the Engineering and Physical Sciences Research Council (EPSRC) under grant reference EP/S023305/1.